About Eagle Strategies
About Eagle Strategies
We offer financial planning and Investment advisory services through Eagle Strategies, LLC, A Registered Investment Adviser, and a variety of life insurance, long term care insurance and annuities through our affiliation with New York Life and other insurance companies; as well as investment products that can help you meet your financial goals.
Like most savvy investors, you probably turn to a balance sheet of financial assets such as stocks, bonds, mutual funds, real estate holdings, and retirement savings accounts to calculate your financial net worth. This traditional definition of wealth, however, is incomplete as it overlooks what may be your largest asset – your "human capital".
Human capital is the value of all your expected future income, including your pension income and Social Security benefits. We evaluate your current income, your savings rate, and your work or retirement situation to determine how large an asset human capital is for you and its effect on your overall asset allocation.
Several Experts Offer One Comprehensive Solution
Your human capital should drive insurance selection and asset allocation decisions in pre-retirement and retirement. In pre-retirement, you incorporate insurance into your asset allocation to help mitigate risk and enhance the economic value of your portfolio. In retirement, you use guaranteed lifetime income* to hedge against the risk of outliving your retirement savings.
Eagle Strategies provides managed account solutions that provide you with all the benefits of a comprehensive investment management service and access to an extensive universe of mutual funds, fund advisory portfolios, and separately managed account managers all tailored to your needs in a simplified approach focused on maximizing value over your entire lifetime.
This service marks a unique advance in wealth management by bringing together an innovative approach to insurance product selection and rigorous investment management from several third party money managers to create an integrated investment and insurance strategy to help meet your financial goals.
You can now receive the same portfolio management services as many institutional investors-whether it is a separately managed account or a mutual fund wrap portfolio
Protection planning – to determine if you, your family, and/or your business is properly protected from premature death, disability, or a long-term care event.
Retirement planning – to educate you about the importance of saving for retirement and the solutions available to help you achieve your retirement goals. Follow this link to test your Retirement IQ
Investment planning – to help you achieve your short or long-term financial goals by customizing solutions based on your individual goals, risk tolerance, and investment time horizon.
Business - Each of the objectives of the entrepreneur's business plan affect aspects of their personal financial plan. Only an integrated approach to personal and business planning incorporating can adequately address entrepreneurs and their unique insurance, investment and tax planning challenges.
Estate planning – to address the steps and planning documents you should consider to ensure that your family, your business, and your financial goals are addressed during your life, if incapacitated, and after your death.
Complimentary E Book Library (click on the image below)
For a free Investment Advisory consultation please contact me today!
* Refers to fixed annuity products. Guarantees are backed by the claims-paying ability of the issuer.

At Eagle Strategies we offer an objective, fee-based approach to financial planning, aligning what you want out of life with your money and resources, always focused on the enhancement of your well-being, progress, and freedom.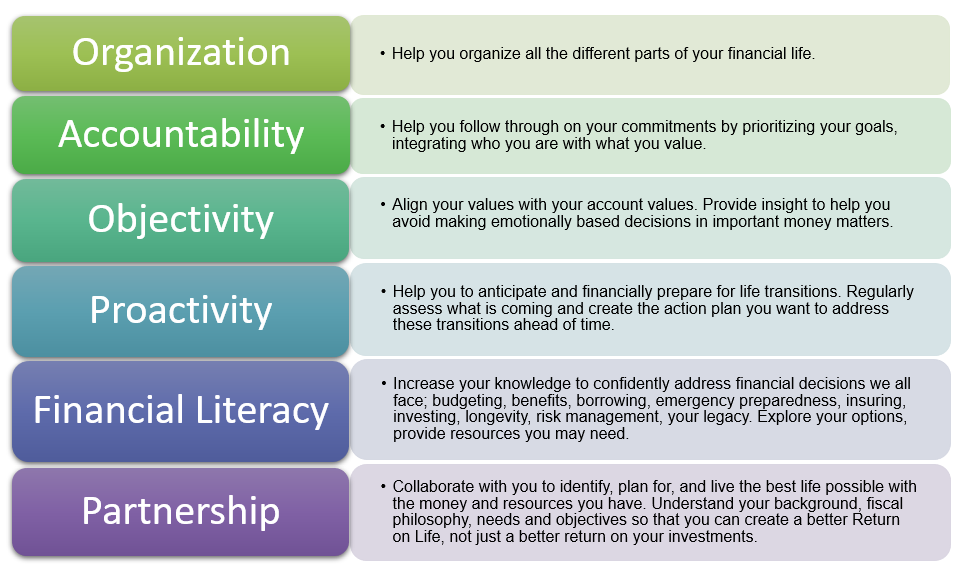 What you value may be more important than what you own.
To follow through on your commitments -- to yourself, your family, and your ideals -- you will want to consider the questions we explore in our exclusive Six Key Areas of capital accumulation and protection planning process:
Resources:
"How should Affluent Individuals protect their financial Achievements"
"How should Affluent Families control the value of their legacy over generations?"
"Your Wealth Should Be Aligned"